Guard Houses Booths with Bathroom 6′×14′
Do you have situations that do not allow security personnel to leave their station? This Security Guard House has the facilities and meets your security needs. This temperature-controlled Guard House is equipped with a comfortable bath room and has space for other items such as microwave and small refrigerator.
Sample A

Sample B

Sample C

Sample D

Sample E

Sample F

Sample G

Sample H

Sample I

Sample J

Sample K

Sample L

Sample M

Sample N

Sample O

Sample P

Sample Q

Sample R

Sample S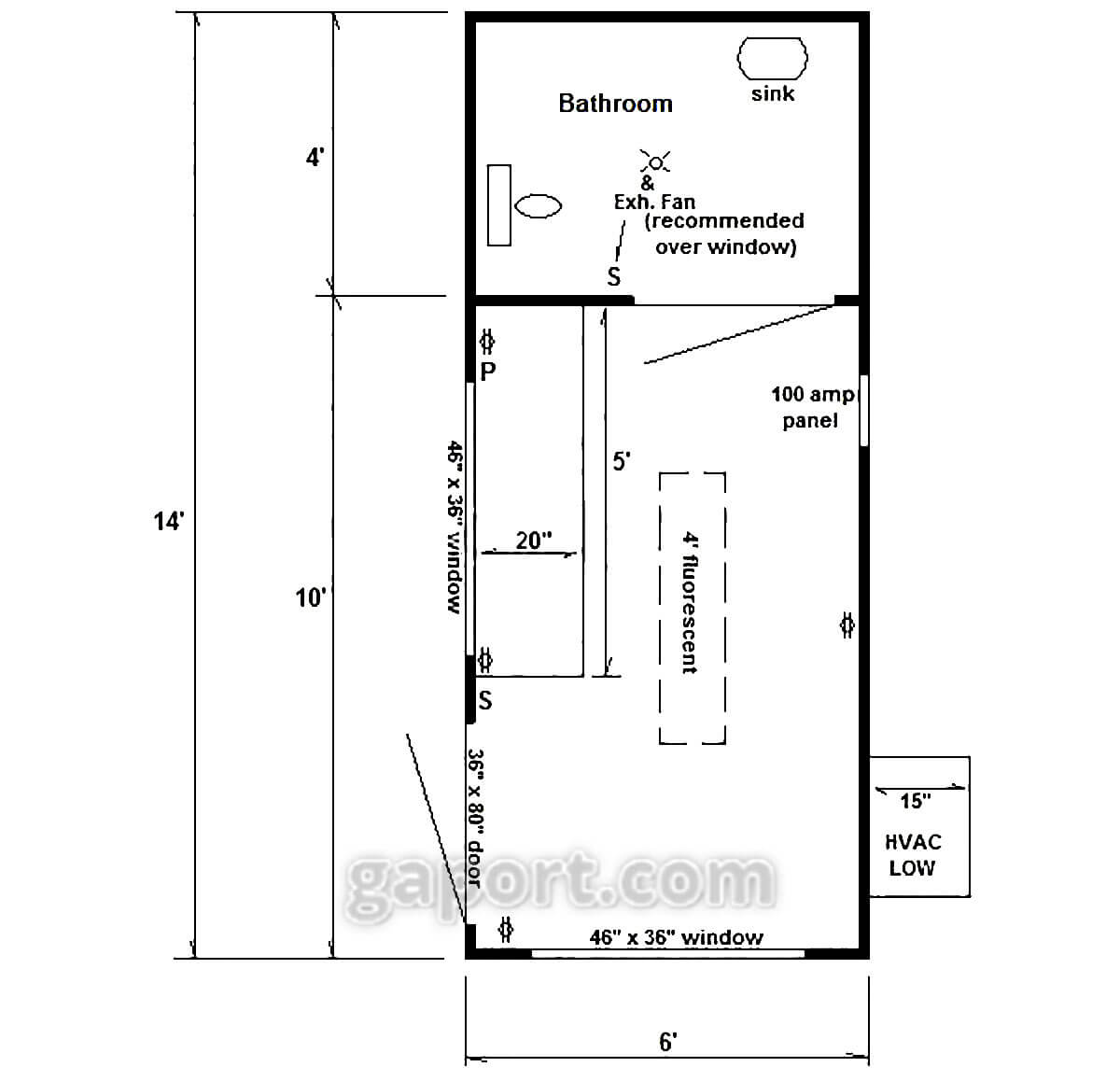 FEATURES of Sample Layout
1 ‐ 100 Amp Panel stubbed through side wall
4 ‐ 110 volt duplex receptacles
1 ‐ Phone jack
1 ‐ 4′ fluorescent with switch
1 ‐ Exh. fan & light with switch in bathroom
1 ‐ Commode
1 ‐ Sink
1 ‐ Counter
1 ‐ 36"×80" Door half glass
1 ‐ Interior door for bathroom
1 ‐ HVAC unit
* Sample layout, may include more features than standard.
GUARD HOUSE WITH TOILET
Sometimes the guard house, or guard shack, if you prefer, is located a long distance from a main building with toilet facilities. Providing your guard house with a toilet, or guardhouse restroom, is routine for us. With over twenty years experience in designing guardhouses with toilets we would be delighted to assist you in designing your next guardhouse with a restroom.
Our most popular guardhouse bathroom includes a commode, sink, small water heater, ceiling light with exhaust fan, GFI receptacle and light switch. Don't forget that in nearly all cases, a guardhouse bathroom will need to be ADA Compliant. (Americans With Disabilities Act). Therefore the necessary grab bars are also included. For the required wheelchair turning radius in your guardhouse toilet, you may need more space than you originally planned.
HELPFUL INFORMATION ABOUT OUR GUARDHOUSES WITH TOILETS
DOORS: Our exterior doors can be the standard swinging type or sliding glass. Our hinged (swinging doors) are 3′0" × 6′8", insulated, metal doors with fixed half glass, nine light window. They are standard with knob lock and dead bolt, keyed alike. If you need sliding glass, a 6′ 0" × 6′ × 8" sliding glass door is available.
Electrical: Our security booth with toilet comes standard with a 100 Amp panel with main breaker. The number of florescent lights and duplex receptacles varies depending on the size of guardhouse with toilet you purchase. Popular electrical options include exterior floodlights and exterior GFCI receptacles.