Delivered and Built On Site
The vinyl buildings are built and delivered to the following areas:

Alabama – Southern only


Florida


Georgia


Maryland


Mississippi – Southern only


New Jersey


New York


North Carolina


Pennsylvania


South Carolina

 
The stylish vinyl buildings we offer look great in any setting:  as a vinyl office building, for storage or with a vinyl home or any modern home. The vinyl building can be built to suit your needs and you decide window and door location—at no charge!
Depending on your location, the vinyl building may be delivered fully assembled or built on site in a wide variety of sizes up to 12'x24'.
Sizes:
This building can be built in a wide variety of sizes—from 8'x10' up to 12'x24' You can contact us for all information.
Colors:
Match the color of your home siding! Please contact us by phone by visiting this page and we will be happy to help you with any details.

- ENLARGE PHOTOS BY CLICKING -
10' x 10' x 8' eve vinyl building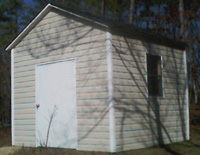 10' x 10' x 8' eve vinyl building

8' x 10' vinyl building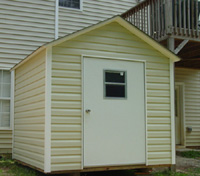 8' x 10' vinyl building
Features:
2x4 pressure treated floor joists 12" on center for extra support
1/2" CDX plywood floor decking
Walls:
2x4 framing, 24" on center
5/8" T1-11 siding, 8" on center grooves, (4" also available)
6" overhang on front and sides, 4" in rear - prevents water streaking
Roof:
Rafters are 24" on center with 7/16" OSB decking
20 year fiberglass shingles are available in a variety of colors to meet your needs
Doors:
Depending on the size of your building and your individual needs, door width can be from a 32" single door up to 8' wide double doors. Doors are constructed using 2x4's for the framing and have a continuous hinge for added security. A hasp is also provided for you to place a padlock to secure your building.
Floors:
4x4 pressure treated runners, placed on concrete block, pressure treated lumber and shingle pieces are used for final exact leveling.