Guard Shacks - Portable and Prefab
What is a Guard Shack?
By definition, a guard shack is a station house or checkpoint area for security staff to monitor the coming and going of a business location. These security booths are commonly seen at hospitals and schools, where a security guard will check-in and check out whoever enters and exits the property.
A guard shack or safety station can be used for one or more staff members as well as to house electronic monitoring equipment. Many times you will find a security guardshack equipped with a powered gate or a ticket dispenser for allowing vehicles into or out of a secure location.
Many professionals choose to have their guard shacks prefabricated in advance so that they can make as many customizations to the structure as possible. Security booths that are prefab allow for a modern and customized design, while still allowing for comfort, complete portability, and very rugged design.
The guard shack that is best for you is one that is the right size and accommodates your staff and/or equipment most efficiently. One of the top priorities is safety, so these prefab security guard buildings are designed with utmost safety in mind.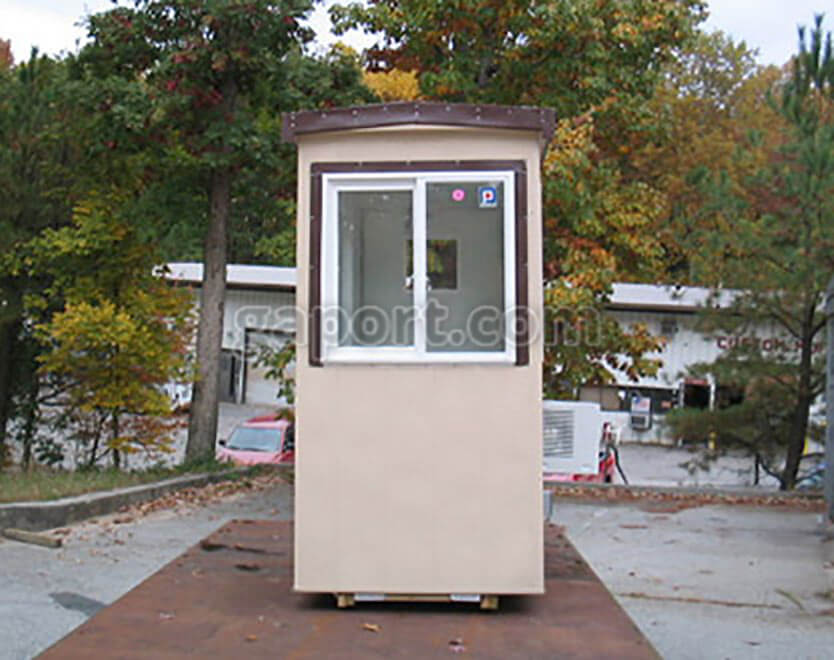 Prefab guard shacks work great on construction sites: use them where you need them and their portability allows them to be moved at any time to another site!
Will a Small Guard Shack Work For Me?
The 4' x 6' guard shack is a great option for areas where minimal space is available and provides enough room to accommodate one person while being a good price for guard shacks. Our modular guard house is budget-friendly while remaining sturdy enough to provide adequate protection and allow the occupant to be comfortable on the job.
Our attractive guard shacks are ideal for parking booths or for an attendant booth. They are climate controlled and insulated to shelter your employees from any severe weather. These smaller units are also extremely portable and are popular among contractors and security firms that move locations throughout the year. Many of our customers have utilized these guard shacks for trailers, elevated platforms, and observation towers.
Low on space? This is one cozy option! But don' t let the small size fool you, our 4x6 guard shacks come fully equipped with many options.