Class C RV Covers for Everyone
Enjoy Your Class C RV Cover
Starts at $4,355.00
A well-built metal RV cover is very cost-effective, important, safe, and handy for your Class C motorhome. Easily and safely park your RV in one of these sturdy Class C RV Covers right on your own property and skip the storage unit fees! Storing your RV under a nice metal cover in this way will give you access from both the top and sides of your RV whenever necessary. There is even adequate room to deploy your slide-out. Keep your RV covered and protected from any type of weather and moisture all year long!
Build & Price In Cart
Product Description
Regular Style
18 ft. x 36 ft. x 10 ft. x 13 ft. 3 in.
Sample Shows Additional Options:

3 - 3 ft. high x 36 ft. long panels (2 left side, 1 right side)

Color:

Top - Pebble Beige
Trim - Pebble Beige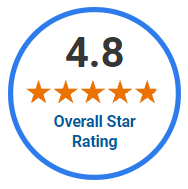 In Most Cases:
1 Year Workmanship Warranty.
20 year Limited Rust Through Warranty On:
10 Year Limited Rust Through Warranty
Our #1 question asked, "Does the price include shipping, anchoring and installation?"

Our prices include shipping, anchoring and installation on your level site within our normal service area

The second most frequently asked question, "How long before installation?"

Average install time is 3 - 6 weeks
Why This Idea Makes Sense
With this quality metal structure, you will have no worries about rips, snags, or cloth cover replacement. This structure offers permanent resistance to all exterior damage while providing a custom fit, installed by a professional team, with a warranty included. You will get a lifetime of water resistance and protection from all-weather, rain, snow, hail, sleet, harsh UV sun rays, and even heavy wind protection in all climates.
Class C RV-type recreational vehicles are very popular for all types of fun and travel to enjoy time with family and friends, new and old. When you are parking or storing your camper or motorhome, it is very good to protect your RV from weather and bad elements like rain and snow or even UV rays from the hot sun, which can be very destructive.
It's vital to protect Class C RVs because they are an important investment and you want to keep them nice for many years. The idea of a long-lasting, quality steel RV cover to store your nice RV just makes sense.